Bloemen bezorgen Loosduinen
Bloemen bezorgen in Loosduinen? Wij regelen het! Wij hebben een ruim assortiment van mooie, verse bloemen. Onze bezorgdienst ziet erop toe dat uw boeket op de juiste dag en tegen de beste kwaliteit wordt aangeboden. Bloemen bestellen in Loosduinen is nog nooit zo eenvoudig geweest.
Ons bezorggebied in Loosduinen:

Bloemen bezorgen in Loosduinen: eenvoudig, snel en betrouwbaar
Bloemen Bezorgen Den Haag levert ook in Loosduinen mooie, verse bloemen, met de service die klanten van ons gewend zijn. Om de mooiste bloemen te bezorgen in Loosduinen hoeft u uw bureaustoel niet te verlaten. Kies zelf een bos bloemen uit in ons online assortiment, selecteer de gewenste bezorgdatum en het bezorgadres en laat de rest aan ons over. Als u bestelt vóór 13:00 uur, dan bezorgen we desgewenst nog dezelfde middag. Wij hebben onze eigen bezorgdienst, zodat uw bloemen altijd op tijd worden geleverd. Verras uw Loosduinse familielid, collega, vriend of vriendin vandaag nog met een mooi boeket.
Westlander of Hagenaar, iedereen houdt van bloemen!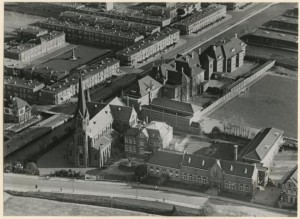 Loosduinen is een bijzonder groene stadswijk aan de zuidelijke rand van Den Haag. Vroeger was Loosduinen een zelfstandige Westlandse gemeente waar voornamelijk boeren en tuinders woonden. In de jaren '20 werd het florerende tuindersdorp geannexeerd door Den Haag om de snelgroeiende stad van bouwgrond te voorzien. Met de annexatie werd het autonome stukje Westland een Haagse stadswijk. Tegenwoordig is Loosduinen vele malen kleiner dan het oorspronkelijke dorp. De tuinderijen hebben in de loop der jaren plaatsgemaakt voor woonwijken, maar de historische dorpskern van Loosduinen is nog goed herkenbaar.
Naast de historische molen De Korenaer is een museum gevestigd dat herinnert aan het oude Loosduinen. Veel Loosduiners voelen zich tot op de dag van vandaag meer Westlander dan Hagenaar. In Loosduinen is overigens nog altijd veel groen te vinden. Bewoners onderhouden zelf de groenstroken in de buurt en hangen bloembakken op om de wijk te verfraaien; Westlander of Hagenaar, Loosduiners houden van bloemen. Bloemen bezorgen in Loosduinen doen wij dan ook met veel plezier.
Welke Loosduiner krijgt van u een bloemetje?
Loosduinen heeft ruim 45000 inwoners. Wilt u één van hen bedanken, feliciteren, beterschap wensen of laten weten dat hij of zij u dierbaar is? Wij helpen u graag. Met onze snelle en betrouwbare online dienstverlening is bloemen bezorgen in Loosduinen eenvoudiger dan ooit. Onze bloemen zijn áltijd vers en áltijd op tijd. Neem direct een kijkje in ons assortiment en verras uw dierbare met een prachtig boeket.